Ciarán Carolan (Research and Development Officer, eu-LISA)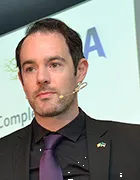 Ciarán's role involves the monitoring of relevant technological developments in order to ensure that the Agency's systems are continuously developed in line with advancements in the field as well as strong involvement in technical and operational projects to ensure that they are carried out according to the state-of-the-art. His interests thus include technologies per se and their usage in border control and law enforcement at European and international levels.
Ciarán is involved in several technical working groups in the fields of border control technologies and large-scale IT systems. He has been heavily involved in the Smart Borders pilot, leading Agency coordination of operational testing in four EU countries and desk research on electronic reading of documents and document security as well as biometrics and spoofing.
Ciarán has B.Sc and PhD qualifications from Trinity College Dublin. Prior to joining eu-LISA, he worked on software design and development and IT system administration at the European Molecular Biology Laboratory (EMBL) in Hamburg, Germany.
Mare Haab (Head of External and Internal Communcation Sector, eu-LISA)

Mare has more than 20 years of experiences in the area of international relations and institutional communication ranging from working at EU institutions to national administration. She joined eu-LISA in August 2013 and as of September 2015 heads the External and Internal Communication Sector. She worked for 10 years in the European Parliament DG Communication as responsible for media and public relations and for setting up the EP information office in Estonia.
She has also served the Estonian Government as the Director of the EU Information Secretariat as a part of the Prime Minister's Office and as a counsellor managing in close cooperation with the European Commission the EC-funded projects in the area of public administration capacity building and EU accession communication. Mare has published articles on EU integration- and security policy related topics and is the co-author of internation publications on security and defence politics. She holds an MA in political science and an MA in linguistics (English and German languages).
Maj Ritter Klejnstrup (Security Officer, eu-LISA – Smart Borders pilot project team)

Maj has been a member of eu-LISA's Security Sector staff since the establishment of the Agency in 2012. For the past year she has worked as part of the Smart Borders Pilot project team.
Maj has worked in the field of information security for more than 10 years. Before joining eu-LISA, she worked at ENISA (the European Agency for Network and Information Security), principally in the areas of European Cyber Exercises and National Cyber Security Strategies.
Maj has completed post-graduate academic studies in information systems and in information security at the London School of Economics and at the University of Oxford.
Tõnu Tammer (Smart Borders pilot project manager, eu-LISA)

Tõnu has worked for almost two years in eu-LISA as a Seconded National Expert (SNE). His role has been to provide expertise in policy matters concerning Home Affairs and in the last year he has lead the Smart Borders Pilot which has been entrusted to eu-LISA by the European Commission.
Tõnu comes to eu-LISA from SMIT (IT Agency of the Estonian Ministry of the Interior) where he has worked for over 5 years and where he held a position of Chief Quality Officer (CQO). In his previous role he also advised European Commission on the SIS II (Second Generation Schengen Information System) project as a member of the Global Program Management Board (GPMB) appointed by the European Council.